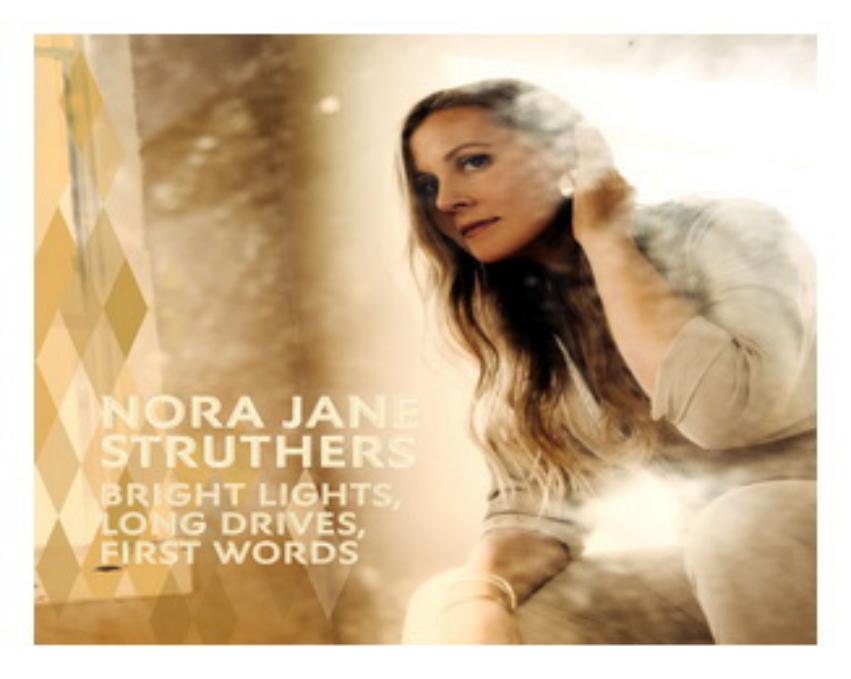 A Nashville nel 2008 la vita cambia, col padre suona e forma una band The Bootleggers che partecipa al festival bluegrass di Telluride, ma i sentori di cambiamento sono marcati, la vita post college come insegnante è oramai solo un ricordo.
Nora Jane Struthers
cambia suono, le influenze rock/americana e le chitarre elettriche modificano le prospettive di una carriera solista, sprazzi di alt. country si avvertono decisi nella deliziosa ballata iniziale di
Nice to Be Back Home
, i tratti malinconici bucolici non si possono disperdere, e quello che si respira in
Bright Lights, Long Drives, First Words
ha sempre un passo deciso.
Tra storie di vite, di viaggi, famiglia, col padre sempre al suo fianco e in produzione, il marito Joe Overton a suonare banjo, violino e chitarra steel con la band dei The Party Line a stabilizzare il passo della chitarra elettrica, morde al momento giusto
I Feel Like My Old Self
e
The Turnpike
, con emozioni agresti pronte a svelare a se stesse nuove realtà nel ritmo contagioso di
Slow Climb
o di
To Catch a Phoenix
.
Insomma Bright Lights, Long Drives, First Words è uno di quei dischi che si reggono senza scivolare nello schematismo della melodia orecchiabile e fine a se stessa, di carattere c'è né (il rock che sale in
The Hunger
e
We Made It
e dal voltaggio aperto a plasmare il fascino di
Cold and Lonely Dark
).
Con una azzeccata serie di Ballate, tenere e non banali (
A Good Thing
,
Good Friends
e
I Want It All
), Nora Jane Struthers mostra che se la vita semina davanti a noi false esche, è un bene non si riesca mai a raggiungerle e continuare sulla strada tracciata di Bright Lights, Long Drives, First Words.