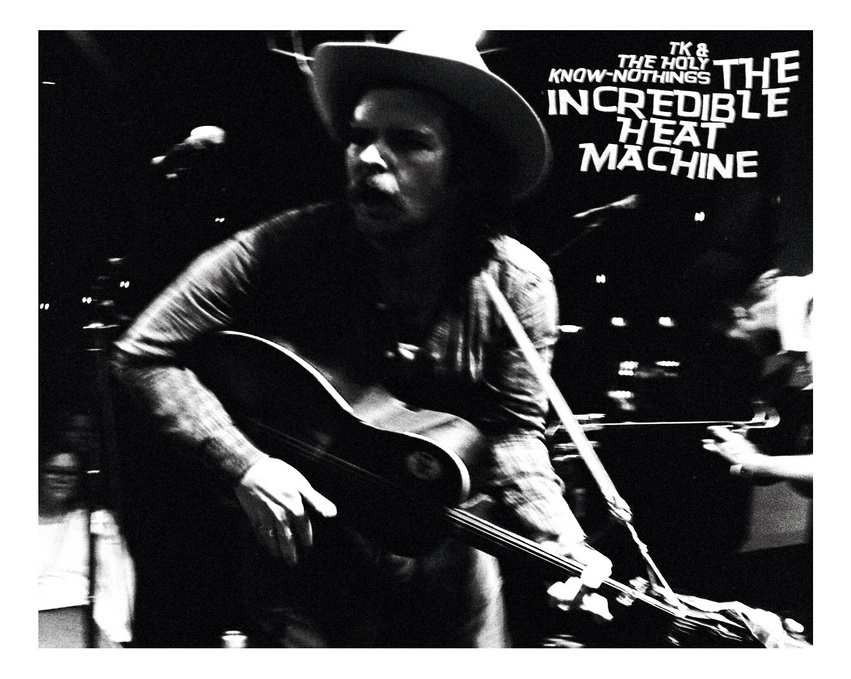 La magia di Taylor Kingman continua.
Esce dal già sentito, la musica la fa arrivare sulla strada dell'americana posizionandosi ad un incrocio con l'alt.country,
The Incredible Heat Machine
percorre una linea, poi, a contatto col rock si dimena, allontanandosi, ma non di tanto.
Frankenstein
e
Serenity Prayer
, accensioni ritmiche e riflessioni, un punto di partenza e di arrivo, c'è il bisogno di far passare i vari personaggi descritti da
TK & The Holy Know-Nothings
tra le strade di città molto colorate.
Questo significa incontrare gente, scontrarsi con la vita ed estrapolare attimi di suggestione (ballate come
Hell of a Time
) a parentesi che bruciano pensieri e note (
I Don't Need Anybody
alla muscolare
The Incredible Heat Machine
) al senso della vita in
Bottom of the Bottle
.
Il loro è un vagabondaggio senza una apparente meta, solo un itinerario del cuore, l'unico che può tenere uniti i corpi di The Incredible Heat Machine (deliziosa
Laid Down & Cried
, con l'accensione elettrica di
She Wonders
come vertice di piacere), a
Just the Right Amount
che accoglie la presenza dell'uomo senza però porla al centro di tutto, perché il viaggio dei TK & The Holy Know-Nothings è ancora di quelli che si dilatano nella melodia.
Diventa vitale, poi si illumina e si colora della necessità corporale di ascoltare The Incredible Heat Machine.