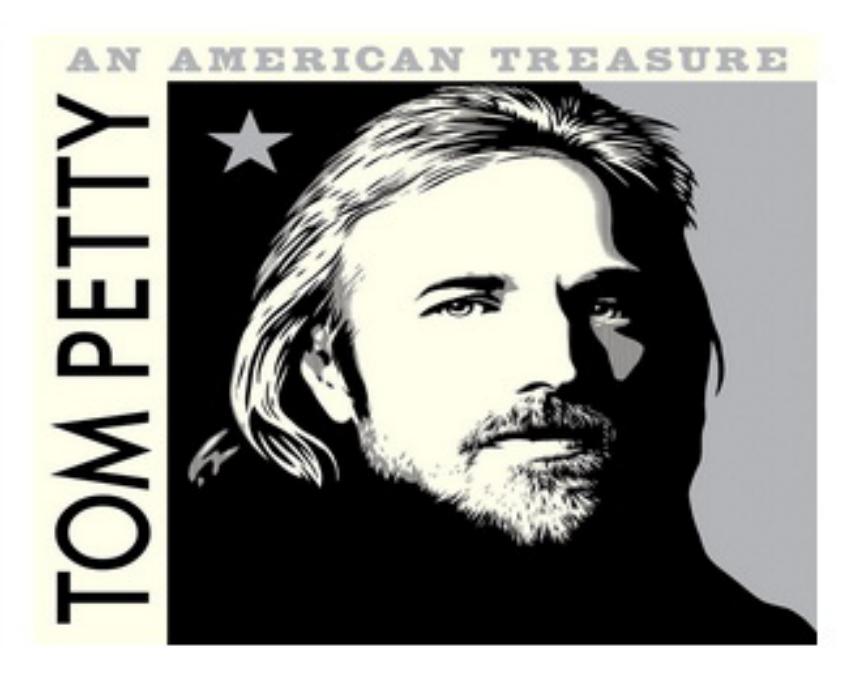 An American Treasure
è un box set di 4 cd dalla forma aperta, permeabile: 60 canzoni, un booklet di 52 pagine con foto inedite e versioni alternative, una decina gli inediti registrati in studio, più rarità e performance dal vivo.
La moglie Dana e la figlia Adria insieme alla band degli
Heartbreakers
(Mike Campbell e Benmont Tench) hanno scelto come ricordare
Tom Petty
scomparso lo scorso anno per una fatale overdose accidentale di farmaci che assumeva regolarmente per trattare un enfisema e un'anca fratturata.
40 anni di carriera, An American Treasure è un percorso che almeno per il sottoscritto, è perfettamente matematico perchè riporta tutto al punto di partenza, chiudendo il percorso e ripetendolo, senza quindi mai uscire da quel quadrato temporale di movimenti.
Cercando di vedere la carriera di Tom Petty attraverso l'ombra proiettata a ritroso dall'ascolto di quest'ultima raccolta, e bastano pochi estratti da ogni disco.
Cd1
. Annate dal 1974 al '79 e si inizia con un inedito,
Surrender
e un gran versione live di
Listen To Her Heart
, ed è come rivolgersi verso il mare, immediatamente rapiti nel contemplare la maestosità della sua bellezza, interessanti le versioni alternative di
Fooled Again
e
Louisiana Rain
striate da nuovi riverberi di luce di rock.
Cd2
. Annate dal 1982 all'89, 3 inediti,
Keep A Little Soul
,
Walkin' From The Fire
e
Keeping Me Alive
, si lascia respiro e parola a melodie potenti e dense di significato con le nuove versioni di
Rebels
e
Deliver Me The Damage You've Done
e in più, la splendida
King Of The Hill
con Roger McGuinn.
Cd3
. Annate dal 1991 al 1998, versione da pelle d'oca con
I Won't Back Down
registrata a San Francisco, altri 3 inediti e una pienezza dell'essere Tom Petty che
Gainesville
,
I Don't Belong
e la ballata
Don't Fade On Me
sembrano racchiudere.
Cd4
. Dal 2002 al 2016, un paio di estratti dal sottovalutato album The Last DJ, brilla
Have Love Will Travel
e anche gli inediti
Bus To Tampa Bay
e
Two Men Talking
, emergono slanci rock e umori introspettivi dalla rimasterizzata
Down South
e dalla toccante
Southern Accents
in versione dal vivo, una rilettura di
Good Enough
dalle Mojo sessions e la splendida chiusura di
Hungry No More
in concerto coi Mudcrutch, dall'album 2.
Comunque decidiate di ascoltarlo, An American Treasure si insinuerà come un lampo nella coscienza di alcuni e come un sacro dolore nell'inconscio dei più.