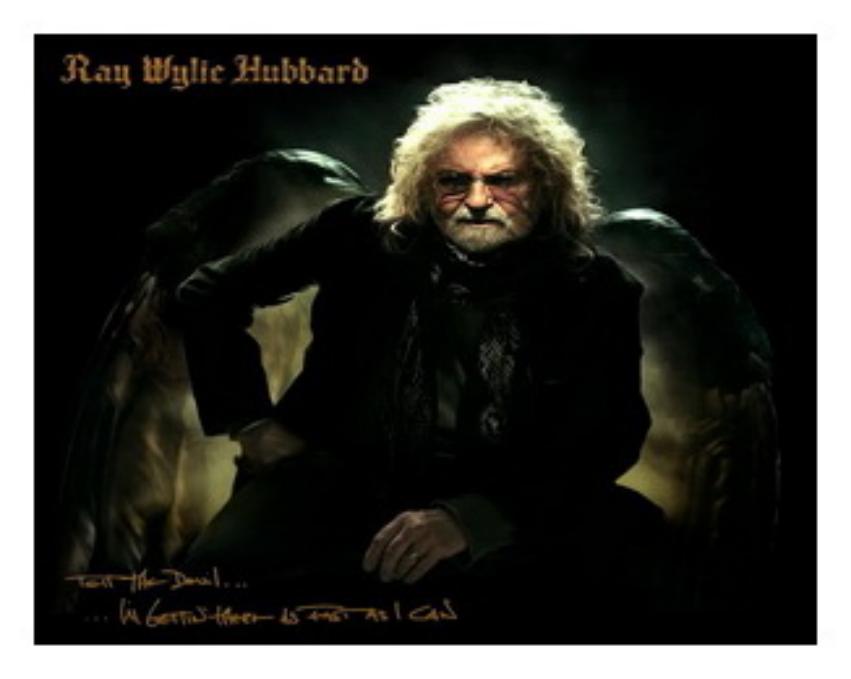 La posterità può permettersi una breve attesa, e non costa nulla giocare sui titoli chilometrici, l'armonica inizia a caricare un torbido delta blues mischiato alle radici folk/country texane, la chitarra del figlio Lucas graffia con fatalistico spiritualismo il gospel al Signore di
God Looked Around
,
Ray Wylie Hubbard
si presenta come una predica serrata.
E, come una predica che vuole colpire e costringere alla riflessione, allontana da sé ogni orpello retorico nel suggestivo trittico di ballate che aprono
Tell the Devil I'm Gettin' There as Fast as I Can
, con
Dead Thumb King
e
Spider, Snaker And Little Sun
, folgoranti nella semplicità e allo stesso tempo nella profondità, sospese tra espiazione e dannazione che impregnano Tell the Devil I'm Gettin' There as Fast as I Can, lo assediano, vi aleggiano intorno come un fantasma.
Non dipendono soltanto da dove albeggia o tramonta il sole del blues, a spingerne la consistenza con un lungo accumulo di elementi quotidiani, ci pensa Ray Wylie Hubbard quando elettrifica le chitarre nell'incrocio di
Lucifer And The Fallen Angels
, dove il principe delle Tenebre pensa di diventare una stella di Nashville ma 'è meglio regnare all'Inferno che servo in Paradiso', è come una colata di bitume bollente sinonimo di metropoli, notte, luccicare di sete e di gioielli, e luce elettrica di una strumentazione all'osso per un altro triangolo molto insidioso (con
Old Wolf
e
The Rebellious Sons
).
Le contaminazioni roots/country impreziosiscono
House Of The White Rose Bouquet
e
Prayer
con un'energia e una vena narrativa che incollano all'ascolto della
Title-track
(cantata con
Lucinda Williams
) e sembra l'unico orizzonte esistenziale percorribile ma in fondo al tunnel di Tell The Devil I'm Gettin' There As Fast As I Can c'è spazio per una riflessione, ultima valvola di sfogo.
In Times Of Cold
(cantata con Patty Griffin), un anima è in cerca di un bilanciamento tra sacro e profano, ma questo è solo il piano su cui Ray Wylie Hubbard fonda un discorso che travalica qualunque intento moralistico, c'è solo da aggiungere che nel corso dell'ascolto di questo disco molti altri bagliori in esso custoditi possono sprigionarsi a beneficio di chi vi si accosterà.