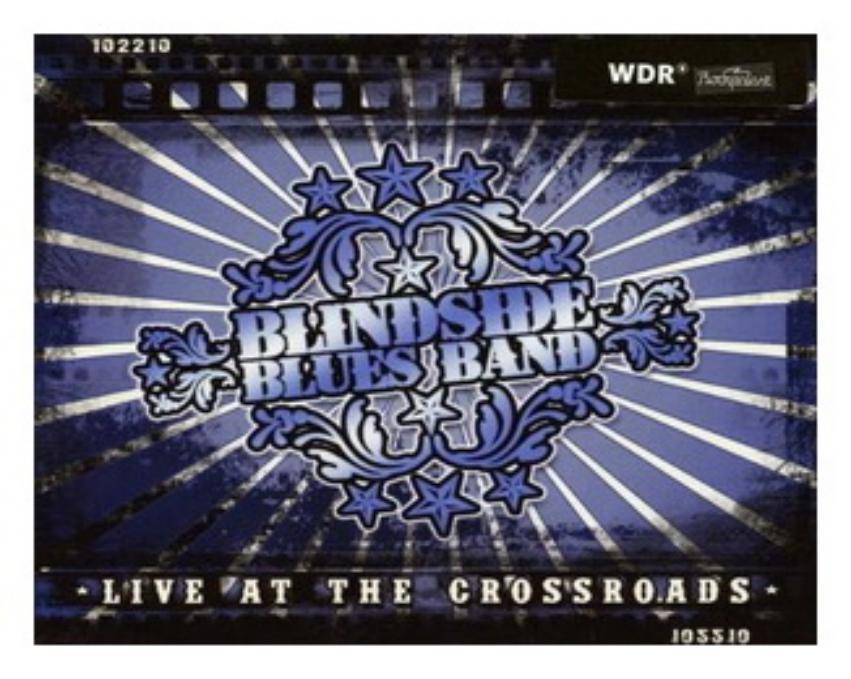 Nell'anonimato di una strada urbana tedesca percorsa da qualche automobile o di una cintura autostradale, ecco la sagoma piatta di un cartello nei pressi di uno studio televisivo:
Live at Crossroads
. La
Blindiside Blues Band
organizza nel doppio cd/dvd, una ricca discografia come una sorta di scaffale, o di catalogo, permettendo ai diversi dischi di dialogare fra loro (
Keepers of The Flame
, 2008 –
Raised On Rock
, 2010 –
Smokehouse Session Volume 1 & 2
–
Long Hard Road
, 2006 al
Messenger of The Blues
, 1995 e
Blindside Blues Band
, 1993) un lavoro intensissimo quello di
Mike Onesko
e
Scott Johnson
alle chitarre fin dalla viscerale
Let The Blues Do The Healing
. Sorvegliano le 'temperature' del blues ora aggiungendo tizzoni ardenti laddove il ritmo sembra, impercettibilmente smunto, negli 8 minuti di
Crying Shame
il corpo della slide guitar inizia a diventare ricettacolo di luce, quelle corde pizzicate che tutto illuminano e scandiscono lo spazio di
Live at The Crossroads
. Da
Night Train
,
Born With The Blues
, emergono per sezioni verticali un profondo hard blues anni '70 che circonda
Renegade
, esce lentamente ma si ritaglia ipnotici spazi stretti, sottili nella granitica
Raised On Rock
, l'atmosfera è pesante quando le percussioni invadono
Hot Shot
ma non tolgono luce e vitalità a
Live at Crossroads
, lo svuotano e l'appiattiscono per un paio di intensi minuti prima di lasciar spazio alla deliziosa jam di
Smokehouse Shuffle
. Facce di una stessa medaglia, entrambe ossidate, scure, la maestria della
Blindside Blues Band
dilaga incontenibile in un diluvio di variazioni blues, legnose e pungenti tra
Bad Luck
e
Crossroads
, la potenza di fuoco continua ad essere incandescente con
Climb The Sky
, le chitarre strappano e si aggrovigliano nel passo cadenzato della splendida
Mojo Highway
, dialogando con lugubre leggiadria nei 10 minuti conclusivi della sfavillante jam session di
Ramblin' On My Mind
. La strada intorno al Rockpalast riprende colore quando la
Blindside Blues Band
ha dissipato l'ultimo rovente blues/rock, resta una targa ricordo: "
Four rock n' roll bastards who kicked 'old-school' heavy guitar blues/rock ass in Germany
"!