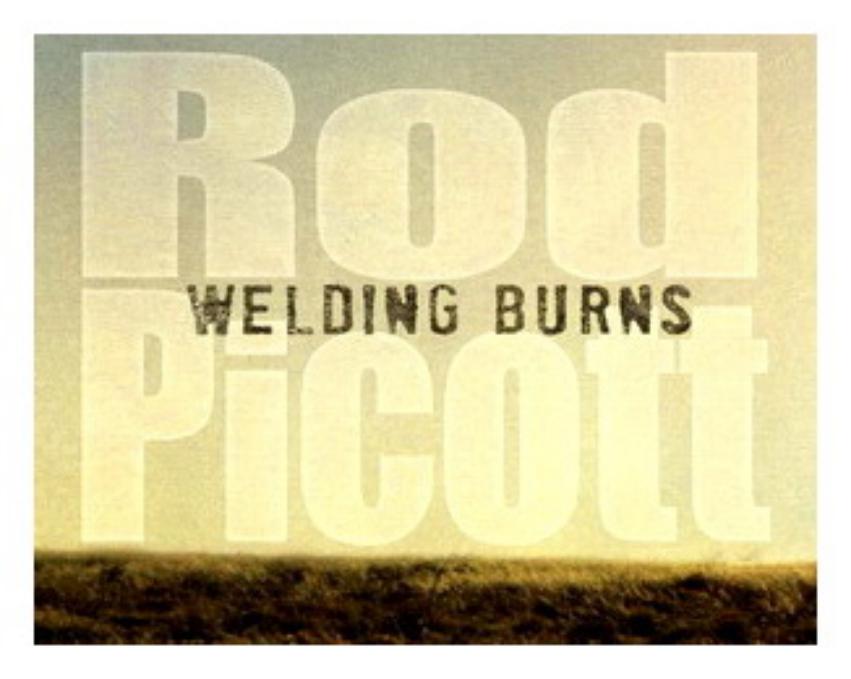 "
I like songs that are very visual, like little movies. That's how I became interested in writing, initially. I wanted to get a balance on this album, with some of those songs that are like short films, like 'Rust Belt Field' and four or five others that are more interior, and not too heavy
." In questa splendida ballad che apre
Welding Burns
, il tempo nell'industria delle auto scorre misurato solo nel ritmo, ma nient'affatto rilassato su di una normalità lavorativa piena di brusche concentrazioni, pronte a risucchiare all'indietro il corso della vita e a farla rientrare in uno stallo di durata non precisabile.
Sorprende il nuovo risveglio di
Rod Picott
, cantautore del Maine, come il suo amico
Slaid Cleaves
su cui scivolano stavolta un fiotto incessanti di richiami, non solo per la cover di
Black T-Shirt
–versione meravigliosa- ma anche nel mezzo di banjo, violino, pedal steel e "
broken dreams, wrecked cars, broken bones and welding burns
" della brillante title-track. Le parole si colorano dei toni cangianti dell'autunno, in quella luce che appartiene a una certa ora, a una stagione precisa, la chitarra di Will Kimbrough, il violino dell'amica songwriter Amanda Shires –con la quale ha inciso nel 2008,
Sew Your Heart with Wires
- e la voce di
Rod Picott
si illuminano e si spengono in "
a collection of songs bound together by the theme of loss and love.
..".
Welding Burns
carica sulle sue fronde un repertorio di brani intensi e suggestivi, nell'americana e country-folk accumula personaggi e situazioni riuscendo sempre a liberare in pochi minuti storie profonde e autobiografiche ("
But like every songwriter, or anyone who writes autobiographical material, it is distilled
", dice Picott. "
You use certain details to paint a picture out of my life, although it may not be exactly as it was
."). Nella steel affoga il romanticismo,
Little Scar
,
Your Father's Tattoo
e
Jealous Heart
, galleggia nel whiskey in
Still I Want You Bad
, nel violino, nei diavoli e una slide ficcante nella splendida
Sheetrock Hanger
.
Infila un magistrale tocco bluesy in
410
, benedetta riflessione elettro-acustica sulla disperazione della gente, sulla perdita del lavoro e della casa, lì
Rod Picott
fa luce su quell'immaginario della crisi quotidiana lasciato fuori dal visibile, quella microfisica dei suoi effetti che non rimangono nella dimensione aerea delle borse globali ma si disperdono in una moltitudine di frammenti, materiali e immateriali, lavorativi ed esistenziali che riguardano l'autostima decaduta e il pericolo della solitudine. Ma l'armonica dell'incantevole roots ballad di
When My Running Is Through
riesce in chiusura a trasmettere tutto 'lo smarrimento' di aver ancora tutta la vita davanti… mentre
Welding Burns
stacca definitivamente l'ombra da terra.